Products - SL 4080, Data Logging Sound Level Meter
SPL & Leq with timer
RS 232 PC interface
Min & Max. level calculation
Date & Time display
Wide range : 35 to 135 dB
Informative, bright LCD display
Light weight & portable
9V Battery operation, provided for ext. dc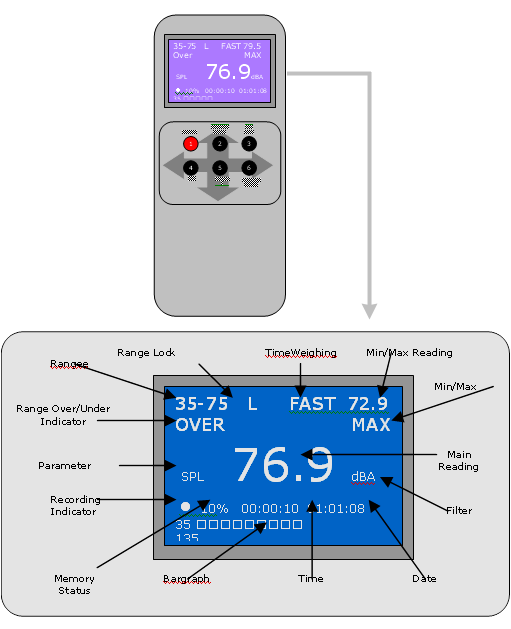 SL 4080 is a hand held, integrating, data logging sound level meter with PC interface. It measures parameters SPL (Sound Pressure Level) & Leq (equivalent Sound Level). Fig 1 is overall schematic of SL 4080, Fig 2 explains displayed information.
Leq is a time weighted average of time varying SPL. It is value of a steady-state sound which has the same sound energy as that contained in the time-varying sound for any desired duration. Leq correlates reasonably well with the effects of noise on people.
Leq = (1/ΔT) ∑ SPLi x Δti
Where, ΔT is total duration of measurement, SPLi is i th sample of SPL, Δti is the duration for which level remained at SPLi.
In datalogging ( also called recording) mode, instrument measures SPL or Leq, displays readings every 500 ms or 1s, saves readings in its non volatile memory at user selected sampling rate (setting of sampling rate is explained below). Each reading is date and time stamped. Other information saved with each reading is parameter being measured ( SPL or Leq), measuring range, filter & time response selected, serial no. of reading.
SPECIFICATIONS
Applicable Standard
IEC 651 Type 2

Measuring Ranges
35-75 dB, 65-105 dB, 95-135 dB
Parameters
SPL, Leq
Microphone
Electret, Sensitivity 10mV/Pa
Frequency Response
30 to 16000 Hz at 90 dB
Frequency Weighing
A, Linear (30 - 16000Hz)
Rectifier
True RMS (crest factor >6)
Dynamic Range >50 dB
Time Weighing
Slow: time constant 1 sec
Fast: time constant 125 ms
Display
3 1/2 digit, LCD, Resolution 0.1 dB
Power Supply
9V battery, type 6F22
Operating System
10 to 50 C

Humidity
<90 % (NC)
Size
285 X 80 X 38 mm